Recherche Programmeur de Jeux! | Hiring a Programmer!
We're looking for a passionate Unity Programmer to join us for our next exciting project!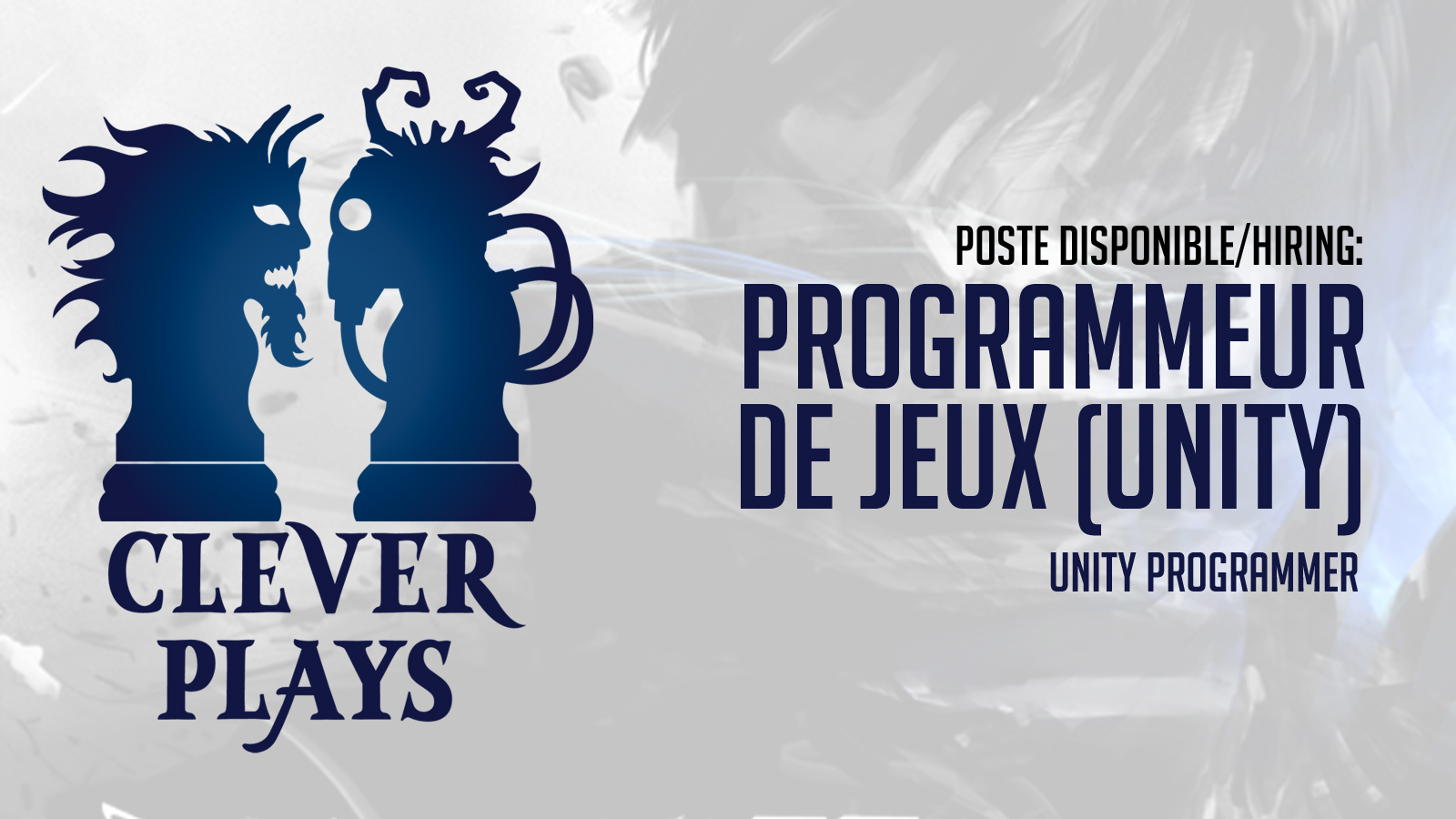 Clever-Plays is an independent game studio located at the Gameplay Space in Montreal. We combine industry expertise and innovative ideas to create high quality PC games for hardcore gamers all around the globe, with ports on other platforms. We created the cyberpunk roguelite Leap of Fate, released in 2016 to high acclaim on PC, iOS, Android, and PS4. We're looking for a passionate Unity Programmer to join us for our next exciting project!
Desired Characteristics:
Unity and C#
1 to 5 years in game development
UI programming a plus
Multiplayer network programming a plus
Experience in task management a plus
Passionate about indie games
Task description:
Share the development of our games
Take initiatives and share ideas
Come live the indie experience with passionate colleagues!
To apply, please email your CV to info@clever-plays.com
— — — — — — — — — — — — — — — — — — — — — —
Clever-Plays est un studio indépendant de jeux vidéo situé au Gameplay Space à Montréal. Nous combinons expertise, innovation et passion dans le but de livrer des produits hors de l'ordinaire aux joueurs à travers la planète. Notre mandat est de produire des jeux PC de haute qualité, et d'en faire des ports sur d'autres plateformes. Le catalogue de Clever-Plays inclu le roguelite cyberpunk Leap of Fate, sorti en 2016 sur PC, PS4, iOS et Android.
Caractéristiques recherchées:
Unity et C#

1 à 5 ans d'expérience sur des jeux

Programmation UI un atout

Programmation multijoueur network un atout

Expérience en gestion de tâches un atout

Passionné par les jeux indie
Description de tâches:
Partager l'ensemble du développement de nos jeux

Prendre des initiatives et donner ses idées
Viens vivre l'expérience indie avec des gens passionnés!
Envoyez votre CV à info@clever-plays.com