Looking for a generalist programmer
Viens vivre l'expérience indie avec nous!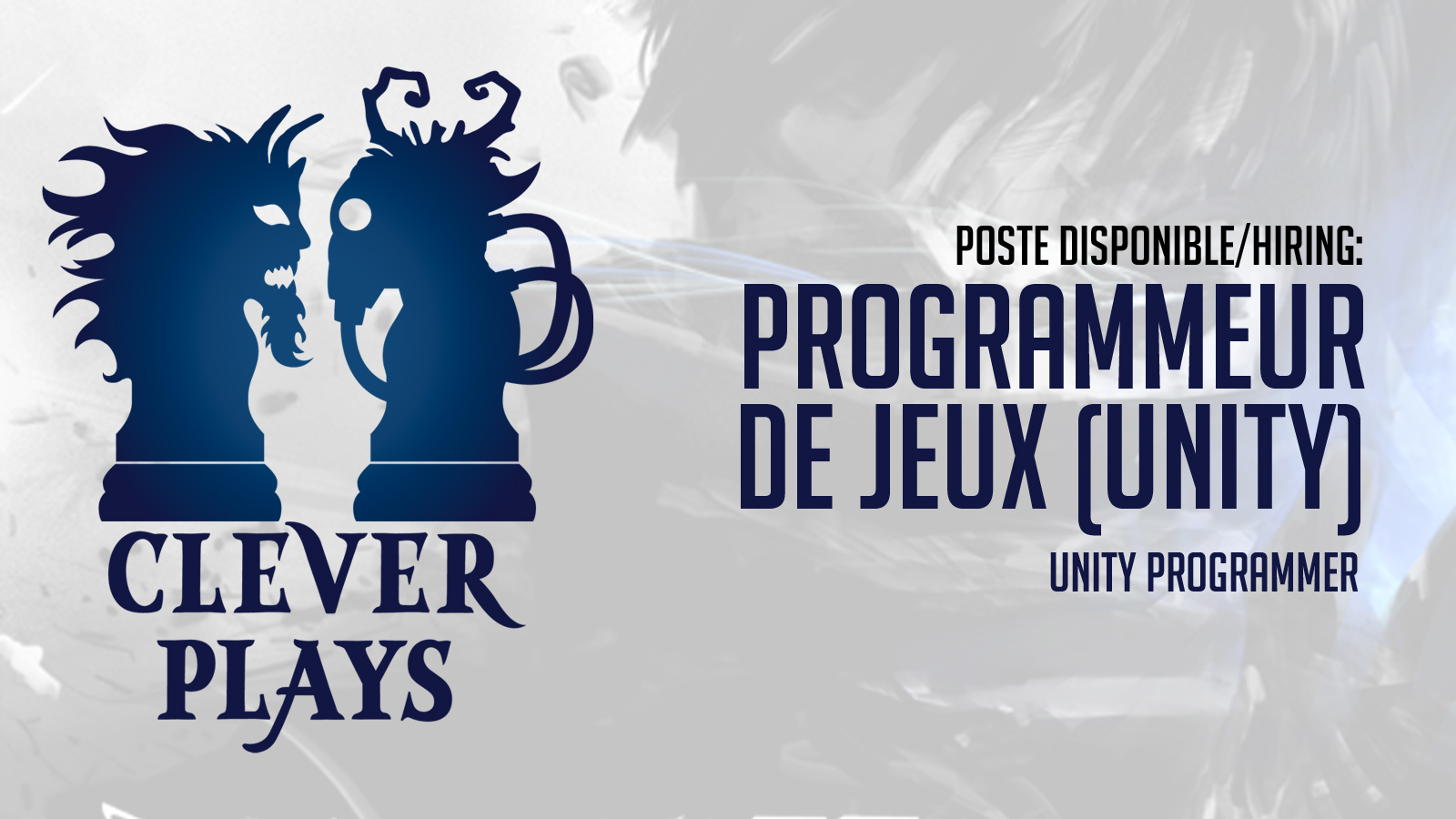 Recherche Programmeur généraliste de jeux vidéo
Juillet 2019
reply to: info@clever-plays.com
Description de poste :
Partager l'ensemble des tâches de programmation de jeu avec l'équipe.
Expérience requise :
– 2 ans d'expérience en programmation de jeux vidéo
– Avoir travaillé sur un jeu sur Steam, Xbox ou PlayStation
– Expérience en programmation gameplay pour un jeu en 3D
Caractéristiques nécessaires :
– Programmeur généraliste avec attitude « touche à tout »
– Fortes aptitudes en résolution de problème
– Être autonome et débrouillard
– Aimer le travail d'équipe et l'interaction avec designers et artistes
Caractéristiques qui seraient de forts atouts :
– Expérience avec C# et Unity
– Programmation multijoueur network
– Connaissance en shaders
– Avoir fait des game jams
– Expérience en gestion de tâches
– Expérience en game design
– Passionné par les jeux indie
Why work at Clever-Plays ?
Clever-Plays is a family-sized independent video game studio based in downtown Montréal. Our games are made by gamers for gamers. Our first game was Leap of Fate, a top-down shooter set in a world mixing cyberpunk and magic. The current project is a very special type of coop game featuring a Mission: Impossible type of investigation gameplay.
What defines us?
– We're passionate people working on games we're proud of
– We're a small team, meaning everyone has a large impact on the game
– Respect is our key word; respect for the team and respect for our players
– No crunch
– 4 weeks of vacation a year
– Flexibility
– Transparent management that cares
– FR and EN welcome
Come live the indie experience with us!
reply to: info@clever-plays.com